Installation instructions Download More Notches Mod
– Make sure you have Minecraft Forge.
– Locate the Minecraft game folder: On Windows, open the Run dialog box, enter %appdata% and click the Run button. On a Mac, open Finder, hold down the ALT key and click Go> Library. Then open the Application Support folder and search for Minecraft.
– From here, drag in the mods file downloaded (.jar or .zip) you wish to add.
– Open Minecraft game, click on Mods button and explore.
If there is an error, please comment on this article we will support.
Relative Post:
How To Install Minecraft Forge (Modding API)?
4 steps to install forge for windows, mac, Linux
Step 1: Download and install MC Forge at the website
Step 2:Open the .jar file you just downloaded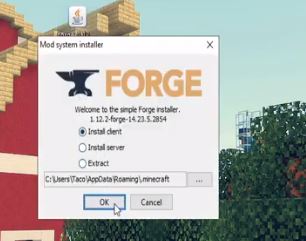 Step 3:Select Install Client or Install Server if you want to install for your server, and click OK
Step 4:Launch Minecraft and select the Forge profile, then click Play.
Download More Notches Mod Description:
More Notches Mod for Minecraft adds more new Notches and new swords with unique abilities into your Minecraft. Your adventure will be more interesting thanks to these items!
Screenshots:
Notches:
Slender Notch:
Hell Notch:
Zombie Notch:
Ghost Notch:
Notch:
Shaved Notch:
Friendly Notch:
Creeper Notch:
Skeleton Notch:
Butter Notch:
Wither Notch:
Didn't want to do The Photoshoot (Destroyed everything)
God Notch:
Angel:
Squid Notch:
Corrupted Angel:
Dimension:
Heaven:
Abilities:
Slender Notch: Giving you blindness and some other effects.
Hell Notch: Will set you on fire.
Creeper Notch: Will make a huge explosion, and will spawn new Creeper Notch around him
Friendly Notch: Fights for you.
Butter Notch: Hired by The Sky Army to defend you from you're biggest enemy!
Wither Notch: Will do the same as the normal wither and it will also give you the blindness effect.
God Notch: Right Click to start the story!
Angels: Right Click to trade
Note's: Some of the mobs are only spawning in a special biome (As Example, Hell Notch in The Nether). The Amulet is a drop from the Wither Notch.
Recipes:
Transator:
"-D-",
"-G-",
"-D-",
D = Diamond
G = Gold Ingot
Transporter:
"-D-",
"-G-",
"-D-",
D = Notchica
G = Slender Ingot
Items, Drops:
Hell Sword: Crafted with Hell Ingot.
Ghost Sword: Crafted with Ghost Ingot
Zombie Sword: Crafted with Zombie Ingot
Slender Sword: Crafted with Slender Ingot
Skeleton Sword: Crafted with Skeleton Ingot.
Creeper Sword: Crafted with Creeper Ingot.
Wither Sword: Crafted with Wither Ingot.
Butter Sword: Crafted with Butter Ingot.
Cheat Sword: This is no drop, you can only get it from the creative tab..
Call of Notch: This Block will spawn in a stone house in Heaven right click to activate it!
All the ingots are drops from the Notch Type it is named after.
The Swords are crafted with the Normal Recipies for swords but then with The More Notches Ingots!
How to install More Notches Mod for Minecraft:

Download and install Minecraft Forge installer
Download More Notches Mod
Put zip file into your /.minecraft/mods folder. Do not unzip it. If you don't have a mods folder, create one
Done
For 1.6.2
https://dl2.minecraftermods.net/index.php?act=dl&id=1426130902
For 1.5.2
https://dl2.minecraftermods.net/index.php?act=dl&id=1426130916
Credits: wasliebob
FAQ:
How to fix minecraft mod crash?
Mods Crashes can easily occur due to mod conflicts, wrong versions of mods, or buggy mods. If the player has installed several mods, if using the older launcher, they should try renaming the "bin" directory in the Minecraft folder, then start Minecraft (Or replace the current minecraft.
How do I delete Minecraft Mods?
What you could do it you have Windows is click on the start button and then search run. Click on the secound option. Then search apps. Next go roaming then .minecraft then mods and you should see all your mods. Click the one you want to delete and press delete or backspace.
How do I update Minecraft forge for the Server?
if you run into the case of your server is not starting and you see in the console it's saying something along these lines;
Console :: net.minecraftforge.fml.common.MultipleModsErrored:
Console :: Missing Mods:
Console :: unknown : need [14.23.5.2768,): have 14.23.4.2760 (Your version of Mc forge may be different 14.23.5.2768)
Console :: Missing Mods:
Console :: unknown : need [14.23.5.2772,): have 14.23.4.2760
1. Open a browser and goto Link Here
2. Download the minecraft forge version you want to update
3. Save the file and run it
4. Select Install Server and click the box with "…", click the desktop on the left and make a new folder called Forge.2772 and click Open and click OK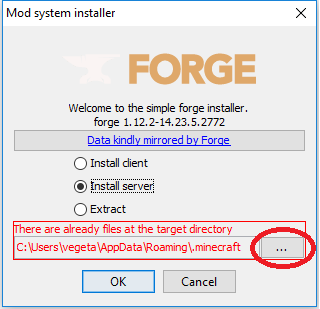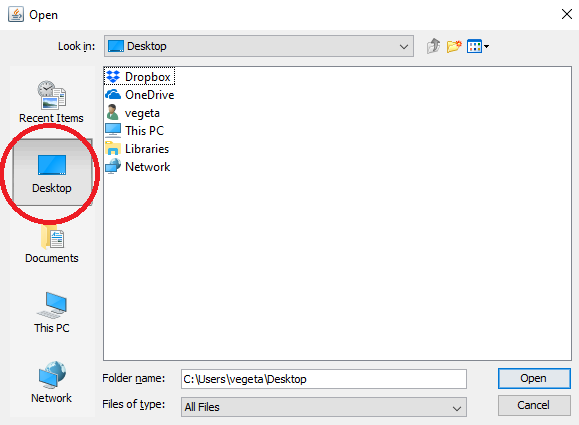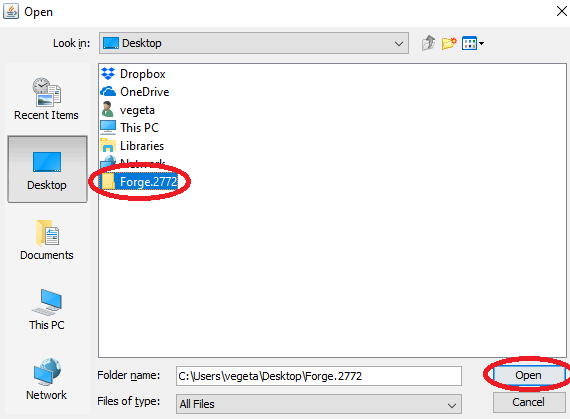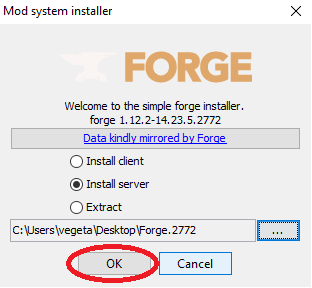 5. Go to the folder on your desktop Forge.2772, delete the minecraft_server.jar file and copy the forge-1.12.2-14.23.5.2772-universal.jar to ForgeMod.jar
Note – The ForgeMod.jar file is case sensitive, ForgeMod.jar is the only way it will work


6. Once that is done, go to the servercraft control panel, stop your server and go in the file manager. Delete the ForgeMod.jar forge-1.12.2-14.23.5.2768-universal.jar files and the libraries folder
7. You can use the file manager to upload your files or use an FTP program, either way, you need to copy all the files and folder from your Forge.2772 on your desktop to your root folder on your server. With the file manager you can drag and drop files to upload them
8. Once done, you can start your server

9. You can verify in the console that you upgraded it correctly
DOWNLOAD MODS FOR PC
Weapon
Armor
Furniture
Decor
Mobs
Realism
Cars
Magic
Lucky Blocks
List of Minecraft Mods. Below is the list of Minecraft Mods developed and modified by the Minecraft community.
The latest version is Minecraft 1.16.5 mods, Most popular versions are Minecraft 1.16.4 mods, Minecraft 1.15.2 mods, Minecraft 1.14.4 mods, Minecraft 1.12.2 mods, Minecraft 1.11.2 mods, Minecraft 1.10.2 mods, and Minecraft 1.7.10 mods.!