Installation instructions Download Sorcery Mod
– Make sure you have Minecraft Forge.
– Locate the Minecraft game folder: On Windows, open the Run dialog box, enter %appdata% and click the Run button. On a Mac, open Finder, hold down the ALT key and click Go> Library. Then open the Application Support folder and search for Minecraft.
– From here, drag in the mods file downloaded (.jar or .zip) you wish to add.
– Open Minecraft game, click on Mods button and explore.
If there is an error, please comment on this article we will support.
Relative Post:
How To Install Minecraft Forge (Modding API)?
4 steps to install forge for windows, mac, Linux
Step 1: Download and install MC Forge at the website
Step 2:Open the .jar file you just downloaded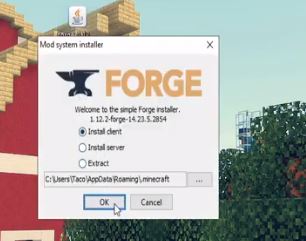 Step 3:Select Install Client or Install Server if you want to install for your server, and click OK
Step 4:Launch Minecraft and select the Forge profile, then click Play.
Download Sorcery Mod Description:
Sorcery Mod for Minecraft. If you want to add some magic into your Minecraft world, you can try Sorcery Mod. It adds a brand new spell system to Minecraft, along with lots of new items and blocks to play with and aid you in your quest to become a Master Sorcerer.
47 Spells with new ones being added every update
Runestones and MP to cast spells with
Additions to the HUD to make spellcasting and swapping easy and quick
Wands, Spellbooks, Spell Tablets, Spell Pages and Staffs
3 new metals, Silver, Netherrite, and Infernite
Multiple new machines to work with
A new liquid and barrels to store liquids in
New magical tools and armour
Inter-mod compatibility
NEI Integration
Lore: Magic, in the realm of Minecraftia, is a lost art. Thousands of years ago, when life in Minecraftia prospered, magic was used by almost everyone, and they did everything with it. They mined, they farmed, they built, and they fought using the power of magic, but many years have passed since the fall of the Testificate Empire. Now, only lone villages live on, and the use of magic is very limited. If you want to get in there and bring magic back to Minecraftia, you'll need to spend some time tinkering and creating. Magic cannot be brought back to the world with simple furnaces and crafting tables alone, instead, you'll need to put together some brand new machines to get the ball rolling. With your help, magic can return to Minecraftia.
Sorcery Mod Screenshots:
The Runic Infuser
Floating with a Phoenix
Some Machines and a Player with a Staff
The Boots of the Phoenix
Sorcery Mod Video:
More information and Recipes:
How to install Sorcery Mod:

Install Minecraft Forge.
Drop the Sorcery Zip file into the /mods folder inside .minecraft. If /mods doesn't exist, create it.
Launch Minecraft.
Enjoy!
Installing the NEI Plugin:
Install Minecraft Forge.
Grab CodeChickenCore and NotEnoughItems from here
Drop both jar files into the /coremods folder inside .minecraft. If /coremods doesn't exist, create it.
Drop the Sorcery NEI Plugin Zip file into the /mods folder inside .minecraft. If /mods doesn't exist, create it.
Launch Minecraft.
Enjoy!
Sorcery Mod Changelogs:
Beta v1.1
Some new Building blocks (Slime blocks, metal bricks)
A Brand new Node based item transport system that works off Vanilla hopper mechanics
Some new Mixer recipes
A new potion – Antidote – gets rid of most negative potion effects
A new potion effect – Frostbite
A new sword enchantment – Sub-Zero – applies the frostbite effect to enemies
Some new textures
A new Biome – Enchanted Forest – with new trees and mushrooms and cool stuff
A new mob – Unicows
A new element – Arcane – not currently used in any spells, but it will be used in the new Infuser coming in Beta 1.3 and the new Spell system
Some new textures
A change to the way the Forge works – it now has to heat up
Some awesome new render stuff
An overhaul to Sorcery's UI. It now looks decent.
LOTS of bug fixes
LOTS of behind the scenes work
A new command to set a player's Mojo and Maximum Mojo – /mojo
Sorcery Mod Download Links:
For 1.6.4
https://dl2.minecraftermods.net/index.php?act=dl&id=1426153859

NEI Plugin: https://dl2.minecraftermods.net/index.php?act=dl&id=1426153874
For 1.5.2
https://dl2.minecraftermods.net/index.php?act=dl&id=1426153889

NEI Plugin: https://dl2.minecraftermods.net/index.php?act=dl&id=1426153904
Older versions:
====
For 1.5.1
https://dl2.minecraftermods.net/index.php?act=dl&id=1426153924

NEI Plugin: https://dl2.minecraftermods.net/index.php?act=dl&id=1426153937
====
Credits: Vroominator
FAQ:
How to fix minecraft mod crash?
Mods Crashes can easily occur due to mod conflicts, wrong versions of mods, or buggy mods. If the player has installed several mods, if using the older launcher, they should try renaming the "bin" directory in the Minecraft folder, then start Minecraft (Or replace the current minecraft.
How do I delete Minecraft Mods?
What you could do it you have Windows is click on the start button and then search run. Click on the secound option. Then search apps. Next go roaming then .minecraft then mods and you should see all your mods. Click the one you want to delete and press delete or backspace.
How do I update Minecraft forge for the Server?
if you run into the case of your server is not starting and you see in the console it's saying something along these lines;
Console :: net.minecraftforge.fml.common.MultipleModsErrored:
Console :: Missing Mods:
Console :: unknown : need [14.23.5.2768,): have 14.23.4.2760 (Your version of Mc forge may be different 14.23.5.2768)
Console :: Missing Mods:
Console :: unknown : need [14.23.5.2772,): have 14.23.4.2760
1. Open a browser and goto Link Here
2. Download the minecraft forge version you want to update
3. Save the file and run it
4. Select Install Server and click the box with "…", click the desktop on the left and make a new folder called Forge.2772 and click Open and click OK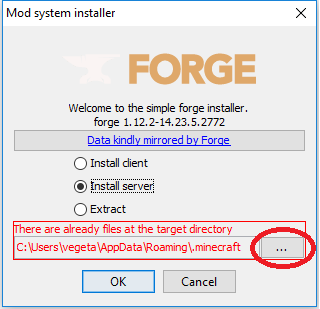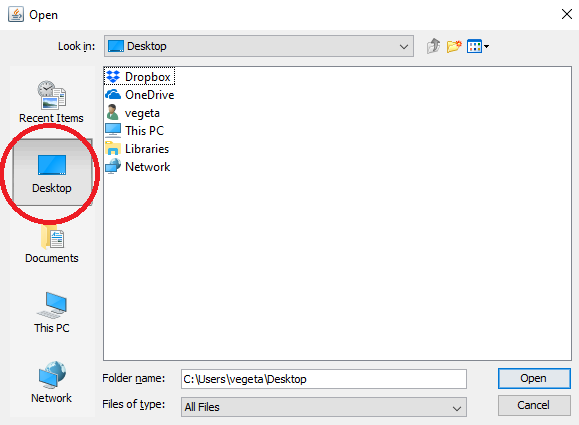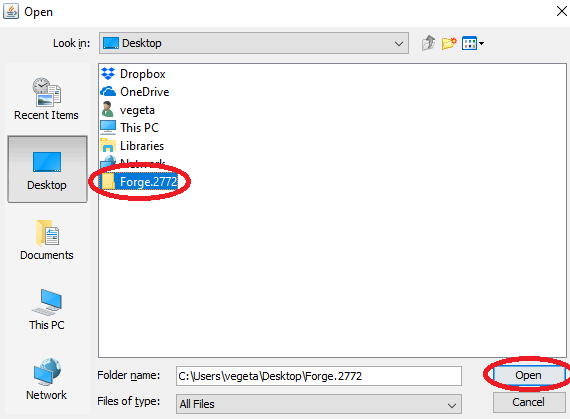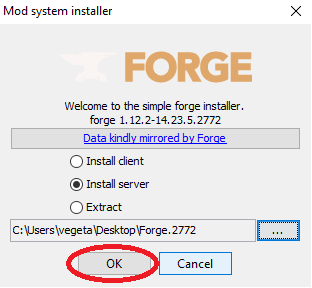 5. Go to the folder on your desktop Forge.2772, delete the minecraft_server.jar file and copy the forge-1.12.2-14.23.5.2772-universal.jar to ForgeMod.jar
Note – The ForgeMod.jar file is case sensitive, ForgeMod.jar is the only way it will work


6. Once that is done, go to the servercraft control panel, stop your server and go in the file manager. Delete the ForgeMod.jar forge-1.12.2-14.23.5.2768-universal.jar files and the libraries folder
7. You can use the file manager to upload your files or use an FTP program, either way, you need to copy all the files and folder from your Forge.2772 on your desktop to your root folder on your server. With the file manager you can drag and drop files to upload them
8. Once done, you can start your server

9. You can verify in the console that you upgraded it correctly
DOWNLOAD MODS FOR PC
Weapon
Armor
Furniture
Decor
Mobs
Realism
Cars
Magic
Lucky Blocks
List of Minecraft Mods. Below is the list of Minecraft Mods developed and modified by the Minecraft community.
The latest version is Minecraft 1.16.5 mods, Most popular versions are Minecraft 1.16.4 mods, Minecraft 1.15.2 mods, Minecraft 1.14.4 mods, Minecraft 1.12.2 mods, Minecraft 1.11.2 mods, Minecraft 1.10.2 mods, and Minecraft 1.7.10 mods.!