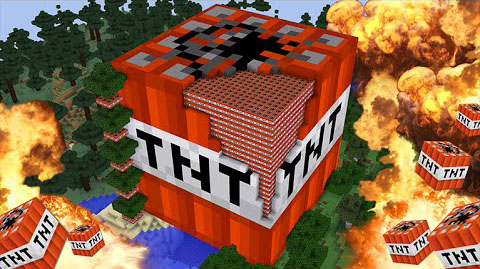 Everything Explodes Mod Description:
It is an addition that does everything its name says; it just makes literally everything around explode. For now, there's four different explosion modes: Better Than Auto-Jump, Kamikaze, The Hand Grenade, and Insanity. Everything Explodes makes you able to switch between these various explosion modes with the Cycle Explosion Modes keybind, on X by default. Press while sneaking to cycle backwards.
Everything Explodes Mod Screenshots:
Explosion Mode: Better Than Auto-Jump
Explosion Mode: Kamikaze
Explosion Mode: The Hand Grenade
Explosion Mode: Insanity
How to install Everything Explodes Mod?
Download and install the correct Minecraft Forge.
Run Minecraft once to ensure that Minecraft Forge is installed correctly. A Mods button should now be available in the main menu.
Download a copy of the Everything Explodes Mod jar (zip) and save it to the directory %appdata%/Roaming/.minecraft/mods. The mods directory is created by Minecraft Forge in the previous step.
Run Minecraft and enjoy!
Download Links:
For Minecraft 1.10.2
Download Everything-Explodes-Mod-1.10.2
Author: ChaosTheDude