Many Minecraft Players are cynical once they hear something about simple packs which are capable of making the looks of the game more modern. This is because it is quite hard to change the Minecraft world and make it look like what can be seen outside of it. Minecraft has the standard cartoony look which makes everything in a default view.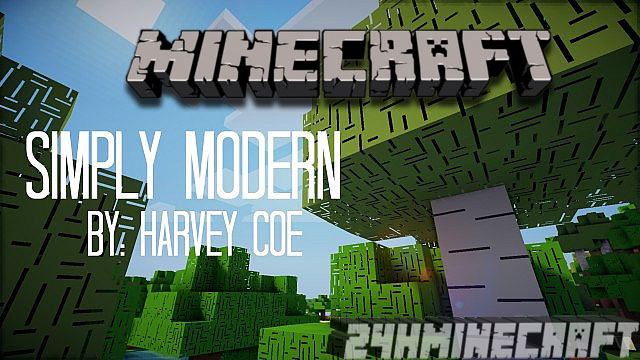 How Simply Modern Resource Pack Minecraft Works?
This resource pack combine elements of a modern pack that are used in creating urban cityscapes and simple packs which features low resolutions. As it is already nearly completed, there will be just few updates since majority of additional and new textures have been already implemented. There will just be some stuffs in the game that still remain on its old look such as the planks and wooden blocks in the vanilla Minecraft, but the rest will be pretty different.

You can immediately notice changes while working with the more advanced Minecraft blocks such as quart blocks, stone bricks, and red stone. One of the great things with this is that you can really tell differences between things which previously look very much alike.
For instance, trap chest has different marking than the normal one and droppers and dispensers have different texture so they won't look similar as what they typically do. The extra graphics were allocated for updating mobs. Both Friendly mobs and hostile monster now looks different, but not that different so you still can recognize what they are just with a glance. Animal pens will also look better than the normal ones.
Some blocks will also shine through like stone and wooden fences. With Simply Modern Resource Pack GUI gets nice updates, solid black and grays in color department and most of the items will have new look. This little changes provided is what makes this resource pack stand out.
Another great touch this pack will make is the new look for potions of different kind. No more troubles in organizing Minecraft pots just like before because of its similar look and you will surely be happy on how potions are presented in this pack. Furthermore, if you want textures to explode off your screen, applying well-matched shader will just do great. Only through that you will get decent lightning and shadow effects.
This resource pack support Random Blocks and Random Mobs. But if you really like most of the textures as well as the monster to render correctly, you will need to install OptiFine and keep it running. Just like any other pack which requires OptiFine to be used, Simply Modern will also ask you to install MCPather. The distinctive user interface, the decent textures and low resolution works together to make this resource pack worth a try. It helps every Minecraft player to use this resource pack devoid of any added lag.
With Simply Modern, everything will be redone inside and out. Enjoy the game in a Very simplistic and sleek modern design- simply gorgeous, simplistic blocks, and updated mobs.
 How to Install Simply Modern Resource Pack ?
Download the resource pack.
Press start and type in %appdata%.
Find and open your .minecraft folder.
Locate to your resourcepacks folder.
Drag and Drop the texture .zip file into this folder.
Simply Modern Download Links:
For MC 1.8.9/1.8/1.7
Credit: Harvey Coe – Original Thread on Planet-Minecraft
How useful was this post?
Click on a star to rate it!
Average rating / 5. Vote count: