Uncrafting Table Mod 1.12/1.11.2/1.10.2 also takes into account whether an item is enchanted and will return the enchantments back to you if it is.Uncrafting Table Mod adds an Uncrafting Table which allows you to convert unwanted items back into the resources they're crafted from, in exchange for XP.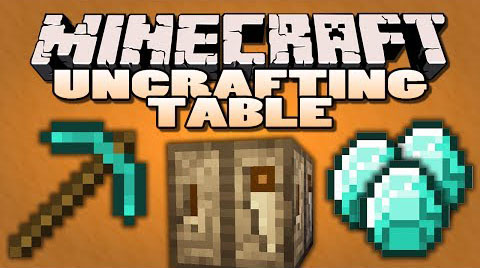 Uncraft items from vanilla Minecraft or other mods. Uncraft tools, weapons and armour – even if they're damaged! If the item is enchanted, you can get the enchantments back by adding books to the table as well!
You can change the amount of XP required through the mod's configuration menu, as well as choosing from two different ways of uncrafting damaged items – either get all the resources back in exchange for lots of XP, or get some of the items back depending on how damaged it is.
Mod Contents:
It's pretty simple, just do a little craft
After this difficult step, place the "Uncrafting Table" and right click on it:
As it's written on the interface, any decrafting costs some XP. (Basically from 4 to 30 depending of the item and its state).
If a craft recipe give more than one item, you'll have to put at least the number of items given by the recipe.
If you put more than the given number of items, the spare number of items will be returned in your inventoryDo you understand ? Watching the screens is probably better.
When you put the 2 sticks (instead of 4 given by wood blocks):
Uncrafting Table Mod Configuration GUI
Mod Showcase:
How to install Uncrafting Table Mod
Download and install Minecraft Forge.
Download the mod.
Click on the Start Menu in Windows.
Type run into the search box, and select the Run program at the top of the results.
Type %appdata% into the Run program, and press Enter.
Go to .minecraft/mods folder.
Drag and drop the downloaded jar (zip) file into that.
Enjoy the mod.
Download: 
Author: jglrxavpok, csb987, Nevik_9191